iChurch?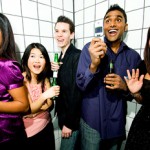 There's a new gold rush on in California, and it comes with its own praise music.  According to confidential industry insiders, three of Silicon Valley's biggest technology firms are in bidding wars to buy up the nation's largest churches.
"Not many pastors are truly entertaining," said a stock market analyst close to the acquisition rush, "but once they hit their stride, once they get their timing right, it's a solid gold gravy train.  Put one funny pastor up there on a big screen, and the message can be delivered to hundreds of flat panel satellite churches in a region.  It's a very solid revenue model."
"Technology executives were skeptical, at first, as to whether the church experience would jive with the buying patterns of young millennial consumers, but when they began watching the sort of messages given at the really large churches, they found the pastors to be more market savvy than the most forward thinking technology designers.   The new sermons offend no one, and they leave people laughing their heads off."
Investment bankers were also skeptical about mixing non profit entities with global for profit corporations, but smart pastors are now crafting their leasehold documents with a percentage-of contribution clause, so sacrificial giving can now flow right through to bottom line corporate dividends.
"We don't expect any doctrinal changes at all in these churches.  In fact, we looked up the word doctrine and we really couldn't find any coherent theology being preached at all — which is fine by us.  We just want butts in the pews and a firm commitment to sacrificial giving."