Heavenly Village and Environs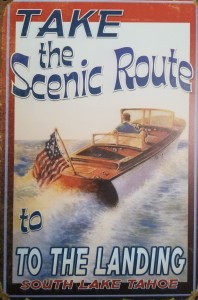 South Lake Tahoe.  I officially like this place.  It's got a pronounced Emerald City vibe. The shuttle driver drove me past several Tin Men getting re-polished and Scarecrows getting re-strawed on the way to the Driftwood Cafe for breakfast. He connected me, mentally, to my family who took the same route an hour earlier. When he said, "have a great day," I think he meant it. He appeared to be imagining my schedule for me, charting it out like a film director visualizing a bar scene and a few musical numbers.
The breakfast was very good. A kindly massage therapist at the hotel actually fixed my back.  I didn't think so, at first, because I was still aching when I left. She appeared truly sad about her failure to heal, but her sweet sadness worked its magic and I was actually fixed a few hours later.  "Listen to your wife," Mary said.  "I told you so."
Seriously, though, can a place, a region, welcome you?  I've felt sincere affection for certain patches of ground in my life, and I'm not sure if this is rational.  In most cases, it was almost instantaneous. The architecture, the people, the food, the conversation all seemed to be saying, "yes, pilgrim, we know; rest here with us for a moment."
I thought I would make a top ten list.
Riley's Farm, Oak Glen California: I wouldn't live anywhere else; the Old Packing Shed on a Saturday night? Taking in a deep breath full of strawberry and ripening pear? Watching a beautiful young mother dance with her toddler, in arms, for the first time?
Santa Barbara, California: Everyone here is beautiful, young, rich and healthy — even the very old and the homeless.  You will never be as successful or as in the moment as these people, but it brings out the Ronald Reagan in you.
Iowa City, Iowa: When I was a graduate student here, I told a friend, "I think that hair stylist likes me.  I think she was flirting with me."  He responded: "This is Iowa.  Everyone's friendly." It's positively exhilarating to be around such collective middle American good will.
Old Town Pasadena, California: lots of bars and shops and smart people and old world California optimism.  It's a city without big iron and glass monsters blocking the sun.  Urban, but with rose queens.
Dodger Stadium, Los Angeles, California: When my dad first took me as a young boy, I felt something church like and congregational about the crowd — except there were no church ladies.  The collective spirit, buoyed by hot dogs and beer, seemed to be asking: "How could anyone have a name as cool as Sandy Koufax?"
Main Street, Disneyland, Anaheim, California: Even as a kid,  the rides didn't quite match this.  I could have just sat on a park bench and watched the horses trot by and the bands and the people coming and going.  God bless you, Walt.
The Yale Club, New York City: Okay, yes, I'm guessing some great evils have been hatched here by soul-parched globalists, but if you're invited, it's worth it just to have coffee in a big padded chair, contemplating the pilasters and the 24 foot ceilings and the metropolis.
Shields Tavern, Williamsburg, Virginia: Out of a howling wilderness, someone cleared the trees, milled the lumber, cobbled the roads, and nurtured republican ideals over conversation and music.  The place feels downright holy to me.
Shakespeare and Company, Bookstore, Paris: You're contemplating the beauty of all the books you'll never be able to read and a perky little Englishman invites you and your bride upstairs for tea.  You're wondering how many times that ritual has been performed and how many other wordsmiths have taken pleasure in it.
Heavenly Village, South Lake Tahoe, California/Nevada:  your sons have just flown, literally, over the lake of the sky.  Two Jimmy Buffett types are singing in the courtyard of Base Camp Pizza. The restaurant is bustling with young and beautiful servers.  I look out at the crowd and I want the app that tells me everyone's story, because, temporarily at least (for I'm the sorriest bastard you'll ever meet on some occasions) I am in love with all of God's children.