Somewhere, in Problem City…
I have become a student of a certain sort of tit for tat conversation.   I think I am going to start collecting them.  They go like this:
Connor:             You undermine me on these sales calls.   Every joke is at my expense.  Every single one.  You're always taking a swipe at me.
Steve:                  Well..
Connor:             Admit it.
Steve:                  Okay… Maybe..  I just think if we show our human side a little, it makes the customers feel..
Connor:             Why don't we show your human side sometime?  I don't appreciate being called 'brain dead' in front of the customers.
Steve:                  Fair enough.   Sorry.
Connor:            Thanks.
Steve:                  But, I've been meaning to say…
Connor:             What?
Steve:                  Your car.  It's a mess.   As long as we're engaging in mutual improvement here, you really think that makes for a great presentation?  You ought to get it washed sometime.
Connor:             My car?
Steve:                  Fess up.
Connor:             Fine.  Clean up the car.
Steve:                 Great. No more Connor jokes.
Connor:            Okay.
Steve:                 Okay.
They go back to their corners.  No one is quite satisfied.  No one is sure if the advice was really taken, or how it was meant in the first place.   Connor wanted to walk away from the exchange without any behavior-changing homework, and Steve didn't want any either, so they just traded assignments.  There is no shared hope for a better tomorrow, or real change — just a mutual sense of failure.
Sometimes this stuff just gets vicious:
Ellen:                   Is that any way to treat your husband?
Debbie:              I'm not in the mood to take any advice from a woman who has been divorced three times.
Or they sound like something out of my own childhood:
Archie:                 You need to get to work young man.  You're lazy.
Steve:                   Oh, yah?  You smoke cigarettes!
Sometimes the tit for tat connections are strained indeed.
Fran:                   Either lend me the money or not, but make a decision. I'm tired of waiting around for you to make up your mind.
Dexter:              I don't know why I'm taking any grief from someone who has such a weird sleep pattern.
Fran:                    What?
Dexter:               You want to call me indecisive.   You need to look at a few of your own problems, Miss.
Fran:                     My sleep pattern?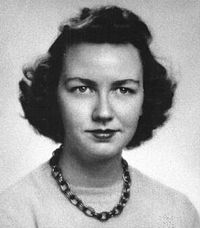 I'm guessing we've all had several thousands of these conversations over the course of our lives, and the less humble we get as a culture, the more unproductive, and more numerous, these exchanges will become.   The Bible tells us "a wise son loves reproof," and I think in the entire history of the world, by that definition, there have been very few wise sons.
Can any of us say we actually LOVE criticism?  We're anxious for it?  We can't wait to process the good ideas of those around us, even if they sting a little bit?
They say that young, extraordinarily gifted Flannery O'Connor, the great writer of the Southern Gothic short story, was anxious for criticism, and she was well on her way to literary stardom as a youngster of twenty-one.   Ever notice the connection between humility and genius?  It might go both ways.  The truly gifted can listen to the advice of both fools, and savants, because they aren't threatened by the former and they know they have a lot to learn from the latter.
Most of us settle for tit for tat, mutual destruction as opposed to mutual improvement.  We're anxious to shoot back, to assume bad intentions.  We don't want anyone walking away from us, assuming they taught us something we didn't already know.
And the more we do that, the dumber we're going to get.