My remarks at mom's funeral
Who can find a virtuous woman? for her price is far above rubies.  The heart of her husband doth safely trust in her, so that he shall have no need of spoil.  She will do him good and not evil all the days of her life.   She seeketh wool, and flax, and worketh willingly with her hands.
 She looketh well to the ways of her household, and eateth not the bread of idleness.   Her children arise up, and call her blessed; her husband also, and he praiseth her.  Many daughters have done virtuously, but thou excellest them all.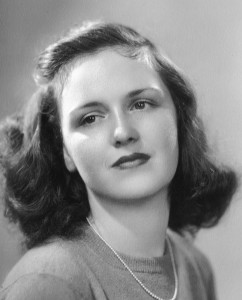 When all of us siblings were discussing the service today, one of us said, on a conference call, something like,  "FIVE speakers?  People are going to think, who are all these people?  How am I going  to sit through this?"
Well, I think I could write five or six books about my mom, but don't worry — I'm not going to do it here.   This is just our chance — as it says in Proverbs 31 — to stand up and call our mom blessed, because she was.  If I weren't on the program today, I think I'd run up and steal the microphone for a minute or two, because I'm so proud of my mother, and so thankful for the life she gave me.   That was my primary emotion this week– weeping not because I was sad.  She wanted to go home.  But weeping because of what a kind, loving, excited, passionate mother she was — passionate for life and eternal life.
Two stories about my mom.  One takes place in 1942 San Francisco, when mom was a young woman, about 23 years old, on her own in the big city and going home one night late from work.  Suddenly all the street lights  begin to dim and the air raid sirens go off and she could remember not being able to see her hand in front of her face as the city went dark.  She couldn't even hear anyone else on the street, and there she was a girl from Logan Utah, only two or three months in the city, standing in the dark, frightened, alone, trying to make her way to the Bay Bridge train, thinking war planes could soon be in the skies overhead.  Suddenly she heard the click of high heels, and a friendly voice saying, "follow us."
Of course, she got home, met my dad, endured a war together, started a business, and went on to raise six children and dance at her grandchildren's weddings.   But I repeat the story because the older I get, the more I realize even your parents, the ones who taught you everything you know, were once scared, feeling alone, in a world that was hostile.   I'm also tickled by what the story says about Mom.  She was alive — out in the city to find her life. She once told me that, as a teenager, she looked up from her table one night at a dance club and saw Judy Garland sitting next to her.  When I watched Ozzie & Harriet re-runs as a child, she would walk into the room and say " we used to dance to Ozzie's band before he met Harriet."   She was on fire for what was good, and true, and beautiful, and whenever she saw it, she wanted to paint it.
Another story about mom:  in our home, growing up, the word "buyer" was an ominous term that meant someone in a major retail chain who controlled our future.  They could make or break us.  Dad was a salesman, in debt to build his business, and you had to be very careful with buyers.   Well, Dad took one of his buyers to Hawaii one year, and he was this big, Southern Cowboy with a wife who had more shoes than Imelda Marcos.   One day, over a meal, this buyer — we'll call him "Gene" — began to tell a story, and he must have been a mule skinner at one point because every story he told was laced with very inventive profanity.  And Gene liked to tell stories, and if you like to tell stories, like I do, you know how annoying it can be to be interrupted.  Well, Mom interrupted him.   Mom interrupted a buyer.  A big buyer.  She said, "Gene, you can say anything you want.   Only please don't take the name of the Lord in Vain.  He's my savior."
You know, if a snarling legalist said that, it might have killed the sale, but you could tell mom was saying it as though she were describing her best Friend.  And she was.  That big cowboy knew he was loved, and he watched out for Mom's friend from then on.
You can see the pictures of mom as a young woman in the program.  She was a stunning beauty, by any definition, but I can honestly tell you this:  it didn't mean a thing to her.  She was probably the most casual, fashion-unaware person I've ever known in my life.  We once went to church and Dad looked over at her shoes, and she was wearing some sort of moccasin slippers, and Dad  turned the car right around for a shoe change.   She really was far more concerned about the work God was doing in her soul, and in ours.  How many times have I heard her say it to me:  "lay not up for yourselves treasures on earth."   She had such a generous spirit, when Dad helped her open a craft shop, they looked at the books a few years later, and it turns out mom had given way over $40,000 worth of merchandise.
Those of you who visited with her knew how loving she was.  She was the absolute soul of love.  But any honest memory of Bea Riley would have to include this conclusion:  if you love truth, you hate falsehood.  If you love virtue, you hate sin.  Mom was deeply worried about our country.  Back in the sixties, they laughed at her, at school board meetings, but she was predicting the future.  In her final years, whenever our Dear Leader came on the television, she would spit in the direction of the set.   I think the last president she actually approved of was Ronald Reagan, and then you would have to go all the way back to Calvin Coolidge for mom's blessings.  And that may sound a tad partisan, but it's not.  She just had high standards for our leaders.  She judged them by the founding fathers, and very few measure up today.  And I can tell you this, if Barack were to repent of his sins, Mom would be the first one to forgive him.
I'm glad, in a way, that Mom is spared the battle that is before us.  She fought hers — and we will have to fight ours.   When you think of that "Greatest Generation" that Mom and Dad were part of, you forget that they were unprepared themselves.  Right after Pearl Harbor, there were only 46 modern fighter aircraft to defend 1200 miles of the West Coast.  My father's barber retired in his early 40s, because he purchased valuable San Clemente beachfront from people afraid the Japanese were going to bomb Los Angeles.    They didn't win the battle because they were prepared, or by the might of their arms, or even because of their training or even their courage.  They were short on some of that.  They won because they had faith in the ideals of our republic, and that great New Testament "city on a hill" John Winthrop described, that great light that cannot be hid, that torch held in the hand of the one true King who sits even now on the throne — waiting for us to call on His name and repent and pray and knock down the gates of hell.   Or as my mother described Him, when I asked a few days ago, on whom she leans …
"My savior.  Only my savior."