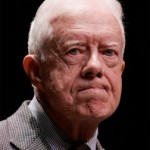 Plains, Georgia ICBTS News – Witnesses describe a disheveled Jimmy Carter sitting on the curb, explaining his side of an altercation that took place between former President Carter and his wife Rosalynn, shortly after 11 PM Sunday night.
"These things happen," said Sergeant Ronnie 'Ducks' Hickson, of the Plains sheriff's department.  Earlier in the evening, President Carter and several middle eastern associates had been lending a hand at a Habitat for Humanity event in the nearby town of Americus.
Hickson chuckled.  "Jimmy came in with his tool belt on and he set it right down on Rosalyn's cherry wood hutch, just hung it there, and in comes Roz and she sees twelve of these, like, Jordanian or Syrian or Libyan fellas — I don't know – standin' there in her living room, and well if you know old Roz, she's not putting up with that. And one thing led to another, and here we are."
Locals have described former President Carter, who will be 90 next year, as having a new lease on life  — more light-hearted, lively, and eager to take part in community events.   During his time as president, Carter was blamed for horrendously high interest rates, runaway inflation, and a botched foreign policy which resulted in the taking of American hostages in Tehran.
"But he's pretty chipper now," Hickson said, "since October.  Since that healthcare web site fiasco.  It's given him a little more self esteem."
After thirty minutes of discussion between Rosalynn, the Secret Service and the Georgia State Police, Jimmy was ushered back indoors.
"He has a Sunday School class to prepare," Hickson said, "something about Palestine.   I think that's where all those Arab fellas fit in."