"Assuredly, I say to you, among those born of women there has not risen one greater than John the Baptist; but he who is least in the kingdom of heaven is greater than he."
Matthew 11:11
You are a piano teacher — the best anywhere really — and suddenly there's a knock on your door.   The two young men who appear on your porch step are severe representations of a certain politically incorrect term. In the legal parlance of previous centuries, they would have been called "lunatick," in literature "fool," or "half-wit" or "simple."  They are dumb, bordering on dangerous — slack-jawed, drooling,  with a kind of impatience in their eyes that is unsettling, and yet they have dressed themselves in their best clothing to impress you.
We'll call them Alfred and  George.
To say teaching them piano is difficult would be to indulge in the painfully obvious.   They are impatient to play and they bang on the keys with their knuckles.  They belt out punishing dissonance, and when they fall into a particularly jarring sequence, they repeat it with high pleasure, over and over again.   The concept of a simple scale, each note separated by one tone, eludes them.  Randomly, they will insert wide gaps.    Repeated lessons are new every session.   They don't remember what they learned five minutes ago, let alone last week.
But you are the very soul of patience and love.   You go over the material again and again and again.   Sometimes you are stern, sometimes affirming, sometimes you just grab their hands and tell them to stop, to breath, to close their eyes and think and pray.
And then you start over.  You play a tune for them, and they shriek with delight.   Alfred appears fixated on the melody itself, anxious to own it for himself.  He nearly pushes you off the bench so that he can try it, and that, of course, is a disaster.   George reacts differently.  He claps his hands wildly, his eyes widen, he jumps up and down with delight, and he begs you to play it again.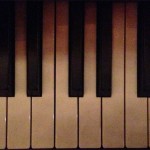 Over time, there is slow, grinding progress.   After a decade of daily piano lessons, they can each now play a scale.  Up eight notes and down eight notes.   During the next decade, they start in on "Twinkle, Twinkle."   Alfred is proud of his voice as he sings along in a very disturbing drone note.   George plays it once, and then literally begs you to play Mozart's 21st Concerto in C Major, which has become his favorite.   Alfred  hears it and still tries to knock you off the bench so that he can give it a try, but George is less animated when he hears you play now;  he closes his eyes and smiles in a way that almost makes him look normal.
After a few more decades Alfred and George can play a single scale, Twinkle, Old MacDonald,  and Turkey in the Straw.   In fact, Alfred plays Turkey in the Straw so much, and so loudly, and with such a bellowing vocal drone, the neighbors have come over several times, begging for mercy.    George still begs you to play the concertos, but as he gets older, he hangs his head and he weeps when you play.    He gives you these big hugs when you finish, and he cries on your neck, and this annoys Alfred, who knocks you both off the bench so that he can play Turkey in the Straw.
As the two old men enter their 70th year, you hold a concert,  a recital, for them.  Both of them looking very frail.   Alfred plays his scale, Twinkle, Old MacDonald, Turkey in the Straw.  He stands to take a bow and recognize the applause, and then for good measure he plays Turkey in the Straw again, by way of encore.   He keeps repeating this, and there is an awkward exchange as you ask Alfred not to play a fifth encore.
George sits down to play his scale, and then Twinkle, and he stops, bows his head and chuckles softly.  He turns around on the bench, and smiles at you.  He steps toward you, holds your hands, and pulls you over to the keyboard, whispering in your ear:  "I will never be able to thank you enough–never, never, never."
This really infuriates Alfred.  It's not the way a recital is supposed to work.  He tries to push you off the bench, but he falls into the orchestra pit, and it's a long ways down.